We have an updated review for one of our favorite pieces of fitness equipment – the Peloton cycle.
Nick had previously reviewed the bike shortly after we purchased it 2.5 years ago (listen to that episode here).
Shannon hops on the bike for a ride with one of her go-to instructors (Cody Rigsby) this week for live-review of this episode. PLUS, she shares the real deal on how long it takes to get used to the bike seat! (Listen at 29:10)
What is the Peloton?
A stationary bike with a tablet that is integrated into the Peloton app, offering live and recorded spinning studio classes and fitness classes.
What do you do with it?
Shannon runs through the whole experience from the minute you get on the bike, signing in with your profile, and choosing your class.
Why do we love it?
Perfect sized screen/tablet
High-quality bike
Live-streamed (and recorded rides – ride on your own schedule) classes based out of their NYC studio
Amazing number of quality instructors that you can watch on-demand – Find the ones you love and vibe with!
Great class music (you can even see the song titles during the class!)
Variety of class types (many types of spinning classes, but also HIIT, strength, warmup/cooldown, yoga, running, etc.)
METRICS!! So many metrics to track your performance (all of which are saved to your profile)
Leaderboard gives you the competitive, group energy (if you like that, if not you can dismiss the leaderboard) of people who have taken and are taking the rides you are
Engage with other users/followers/friends (you can even 'high five' someone during a class)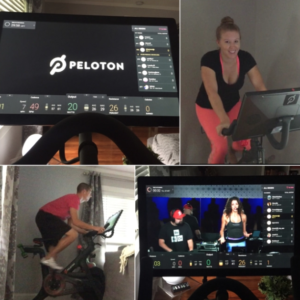 Customizable class metric view (tap away what you don't want to see, keep what you do)
Share your rides when you finish (to social and some health apps – no Apple watch integration yet, though unfortunately)
Live ride shout outs from instructors
Themed rides (George Michael tribute ride was one of Shannon's all-time faves)
Scenic rides (though they're not as smooth and immersive as Shannon would like)
Where do you buy it? How much does it cost?
You can buy the bike online at https://www.onepeloton.com/ or in showrooms (see locations – https://www.onepeloton.com/showrooms)
Bike list price is $2245 (Financing is available)
*There is a flat $250 delivery and setup fee for US residents that is additional.
Monthly app subscription is $39/month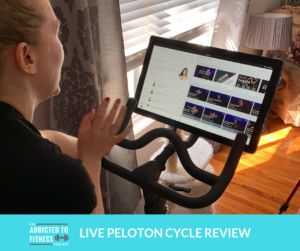 Listen to the episode for all the details as Shannon gets breathless throughout the review and discusses her honest feedback of this now popular bike!
Learn more and check out their class schedule on their website! https://www.onepeloton.com/bike
EPISODE LINKS:
Apple Podcasts: https://itunes.apple.com/…/addicted-to-fitnes…/id1121420986…