On this week's Addicted to Fitness podcast, we review a pair of health articles that will help you achieve more of your fitness quest. We also tell you about the awesome fitness challenge that I'm currently running with ETTampa. The reason it's so awesome is that anyone can participate and you'll have the chance to win FREE fitness training from yours truly. Make sure you listen to the episode for all the details (don't worry, I'll give you the 411 at the end of these show notes). 
Before I fill you all in on our training for the week, I want to remind you to check out our shop page for links to our awesome affiliates like Stick mobility, which you can learn more about by listening to our episode with co-founder Dennis Dunphy.
Training Recap
Shannon has some excited news regarding her training. Drumrollllllllllllllllll – The Peloton back! For those of who've never heard us talk about the Peloton bike, it's a high end stationary bike complete with screen and access to live spin classes and more. We actually reviewed it way back on a early episode of the podcast. Click here to listen!
These bikes are much more popular now than when we reviewed ours over 2 years ago. We've seen billboard ads, TV commercials, there is even a brick & mortar store in our local mall. They've updated a lot of features since our last review, which is why you'll be hearing a new Peloton review on an upcoming episode.
I've personally been doing a lot of kickboxing as of late. I've been incorporating a lot of boxing & kickboxing drills and techniques with many of my clients, but I've also been doing a lot of light sparring. Honestly l sparred more in the last month than I have since I stopped competing almost 5 years ago. Most of the sparring is in preparation for my client Spanish's upcoming competition. You can actually hear a live radio broadcast of his fight Friday, November 2nd on 102.5 FM WHPT or theboneonline.com.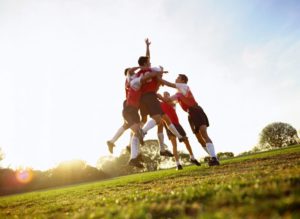 Joining a Team Can Provide Physical & Mental Benefits
Shannon found an article on NPR that describes the results of a recent study on the affect of exercise on depression. The study looked at survey data from over 1.2 million adults (across age, gender, education status and income) and found that people who exercised reported fewer days of bad mental health than those who didn't. 
We've discussed the positive effect exercise can have on depression before, but this study also stated that team sports created a greater positive effect. It should be noted that the study, like most epidemiological studies, only proves a correlation between group exercise and improved mental health. It does not prove that playing soccer, football or even kickball means you will not suffer from depression.
Even with that said, a big contributor to depression is the feeling of isolation. The team sports setting requires you to interact with others. I remember my time on the kickball field as a fun and positive experience which allowed me to meet many friends that I still have today. Shannon commented that she gets the same feeling when she takes a yoga class.
Not only do team sports/group exercise inspire camaraderie, they also elicit a sense of accountability. If you're teammates need you there to be competitive, that provides an extra level of motivation to keep you coming back. That benefit is crucial for anyone trying to maintain a sustainable exercise routine. I have clients that always train at the same time because they like the group exercise atmosphere. They are completing their own customized workout, but they like the fact that there is someone there to workout with.
Involving yourself in group fitness is a great way to start a sustainable workout routine. Another way to help you maintain a regular exercise routine is to set realistic fitness goals, which is what we talk about next on this week's episode.
Goal Setting Strategies
Having a finish line when it come to your fitness training is another form of motivation that can keep you on track. There are certain methods that you can use that will help you create achievable goals. We discovered these strategies on Dr. Kimberly O'brien's website healthyliferedesign.com. The five strategies she shared were:
Have a clear vision of why you have this goal

Use the SMART approach when creating goals

Create an action plan

Literally write down your goals and revisit them daily

Recruit a support group
If you're looking for a group to join that's already creating weekly health goals in preparation for the holidays, I'd love for you to join the ETT challenge.
This challenge will set you up for more awareness during those trying situations you'll run into during holidays, which will certainly help you avoid stress often associated with this time of year. If you'd like to participate, send me an email or a message on Facebook or Instagram (@ettampa) then start tagging your experiences with #ettchallenge. One lucky participate will win a free month of online training & nutrition counseling. The first two goals are:
No booze till thanksgiving

Keep a food journal till thanksgiving (I suggest using the Lose it! App)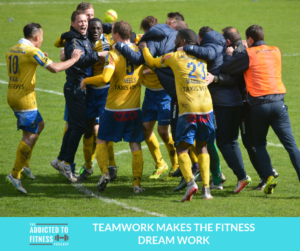 Thanks for checking out this week's episode. As always, please show us you liked it by sharing it with a friend and leaving a rating and review in iTunes, Apple Podcasts or your preferred podcast app.
Episode Links
Apple Podcasts: https://itunes.apple.com/us/podcast/getting-healthy-with-team-sports-goal-setting/id1121420986?i=1000422765374&mt=2
Spotify: https://open.spotify.com/episode/33kzpQWzfWFqst2fmWk0sF?si=pa-YNGwpSCaAKx1wUxkKDw
Soundcloud: https://soundcloud.com/nick-burch-702220833/getting-healthy-with-team