Shannon and I do our best to stay up to date with all the latest health & fitness trends. One particular trend that we've been hearing a lot about is adaptogens.  If you're unfamiliar with that term, don't worry, this week's Addicted to Fitness explains what it means and features taste tests of adaptogen containing beverages.
Adaptogens are medicinal plants believed to help the body respond more effectively to both physical and biological stressors according to greatist.com. Shannon has been reading a lot about adaptogens during her recent research into Ayurveda, which is an ancient system of medicine that uses many herbal compounds for treatments.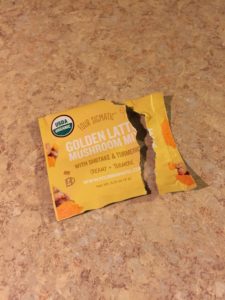 Coincidentally, Shannon was recently introduced to adaptogen containing beverages by another podcast and has been adding them into her daily routine for the last couple months. These beverages aare produced by a company called Four Sigmatic and they contain an additional ingredient that the creators claim can benefit several different areas of health & fitness: mushrooms. If you check out the Four Sigmatic site, you'll see that they have a variety of mushroom coffees, elixirs, blends and even hot cocoa. They also do a great job describing which mushrooms benefit a specific bodily function/system.
For our taste test, I had the Mushroom Matcha while Shannon drank a Golden Latte. Both beverages were created by combining the Four Sigmatic powdered mix with unsweentened almond milk. You'll have to listen to the episode to hear our entire reviews, but here are a few highlights:
Mushroom Matcha
Made with Lion's Mane mushrooms – cognitive boosting benefits
Contains caffeine
Light and tea like – not a strong flavor like coffee
Strong after taste of green tea
No sugar added
Golden Latte
Made primarily of tumeric – powerful antioxidant
Contains shiitake mushrooms – supports full body wellbeing
Dairy & caffeine free
Also contains pinch of black pepper which aids in the absorption of the antioxidants in turmeric
Lightly sweetened with coconut sugar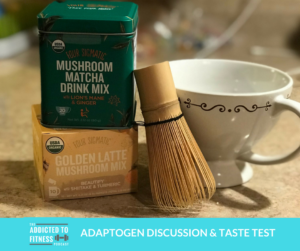 If you've tried a adaptogen & mushroom beverage, head to the ATF Facebook page and let us know what you thought. We'd also love it if you shared your impressions of the podcast in a rating & review on the Apple Podcasts app.
We may be trying a coffee alternative in this episode, but we still love our daily cup of joe, especially when it's from our sponsors The Hemp & Coffee Exchange. Make sure to visit their website, hempcoffeeexchange.com, read about their awesome products, and use our exclusive promo code "ATF" at checkout to get 20% off your order. You should also visit the "Exchange" portion of their website to view products that would pair well with their delicious coffee.
Episode Links
Apple Podcasts: https://itunes.apple.com/us/podcast/adaptogens-discussion-four-sigmatic-beverage-taste-test/id1121420986?i=1000411969904&mt=2
Spotify: https://open.spotify.com/episode/0imQgJOVzBgucO9y3Z06lz?si=zlqASj2NQv2o0152IPq2Kw
Soundcloud: https://soundcloud.com/nick-burch-702220833/adaptogens-discussion-four