A common theme that Shannon and I have been discovering during our recent interviews with health & fitness professionals is that exercise provides as much emotional benefits as physical benefits. Many of the individuals we speak to mention how they or the individuals they work with become very emotionally invested in their exercise program. This idea is very apparent in this week's Addicted to Fitness podcast.
The interview featured on this week's episode is with someone I've been following on social media for some time now. Paul Simpson is a Tampa resident and personal trainer who has developed a training system with a focus on boxing. The similarities between his training system, Punchology, and ETTampa motivated me to reach out to him and ask for an interview
https://www.instagram.com/p/BgW9VPJloqm/?taken-by=punchologytampa
Paul Simpson starting boxing at age 11 in New York City. He turned pro in Tampa, FL in 2000, but a torn rotator cuff in his second pro fight cut his boxing career short. Instead of giving up boxing all together, he decided to become a trainer and develop a training system based around boxing.
Paul's motto for Punchology is "sanity one punch at a time." He has discovered that his training system allows participants to gain peace of mind in regards to their fitness. He's also realized that the emotional and psychological benefits boxing training provides far outweighed the physical benefits clients received. He regularly has clients tell him that they continue their training because of how it makes them feel opposed to how it makes them look.
Paul also believes that his training provides empowerment for both adults and children. The "I can" attitude that his training can provide can be used in other aspects of his clients' lives. He cultivates these benefits at a training studio that is very bare-bones. He purposely created this type of facility to make sure his clients had no distractions and would maximize their training time.
If you're interested in working with Paul, visit his website punchology.com or email him at paul@punchology.com. You can also connect with Punchology on Facebook and Instagram.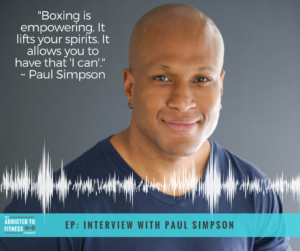 Definitely enjoyed speaking with Paul and I actually look forward to having him on again because I shut down the mics a little early during our interview. We talked for 10 mins after I stopped recording about several interesting topics including the idea of gratitude. If you follow Paul on social media, you'll definitely see that he's a big believer in the power of gratitude.
Speaking of gratitude, we'd be very grateful if you gave the ATF podcast a rating & review in the iTunes store. You should also follow us on Facebook and Twitter for more exclusive helpful fitness tidbits.
Don't forget to visit our sponsor's website, hempcoffeeexchange.com, read about their awesome products, and use our exclusive promo code "ATF" at checkout to get 20% off your order. You should also visit the "Exchange" portion of their website to view products that would pair well with their delicious coffee.
Episode Links
Apple Podcasts: https://itunes.apple.com/us/podcast/addicted-to-fitness-podcast/id1121420986?mt=2
Spotify: https://open.spotify.com/episode/3lDKxNOQREi6bQwDF1mkLS?si=49-FAYMtTzK7_hiGCCU5-g
Soundcloud: https://soundcloud.com/nick-burch-702220833/an-interview-with-former-pro