We frequently discuss plant-based nutrition on the ATF podcast, but this week we're bringing you an interview with an expert on the subject. Howard Jacobson is not only the author of multiple books on plant-based nutrition, he's also a podcaster and health coach.
Howard's past history dealing with the detrimental effects of the Standard American Diet (SAD), lead him adopting a plant-based diet and working with experts in that field. Below are a few highlights from our conversation.

Interview
Howard describes his own battle with being overweight – ate lots of fried foods, animal products, processed foods and was active, but not active enough to offset his poor diet
He describes how the industrial food system in the U.S. has unintentionally made us fat
He believes the way we think about food is incorrect – coauthored a book with T. Colin Campbell called Whole: Rethinking the Science of Nutrition that describes our attempt to take the important nutrients out of foods and put them in pill form & breaking food into macronutrients has given us a false perception of the benefits of certain foods
When people think about carbs, they think buns, pretzels, doughnuts, etc. instead of dark leafy greens, peppers, and sweet potatoes – discusses this misconception more in his book The Low-Carb Fraud
He believes that we should be more concerned with whole, minimally process, foods opposed to worrying about how much carbs, protein or fat a food contains
His plant-based diet definition breaks down to a diet that is comprised of mostly plants – understands that 5-10% of calories can come from animal products, but the vast majority of food should come from whole plant sources
Has not seen "What the Health" but knows that the ultimate goal of documentaries is entertainment – if we start dictating our health choices based on information we gather from a documentary, without doing any follow-up research, we are doing ourselves a disservice
He doesn't create meal plans for his clients – he wants his clients to develop the skills necessary to adapt to the uncertainty of everyday life
He helps his clients practice skills by encouraging them to "workout" of their detrimental eating habits – if you have an issue, say not binge eating at your favorite pizza place for example, go there a simply order a salad
He believes individuals have to prove to themselves that they have the discipline to follow their realistic food rules
He stresses the importance of vitamin P(ain) – when you become ok with discomfort, there is nothing you'll be unable to try
Howard and I may have different nutritional preferences, but we were able to have a civil conservation in which I developed an even greater appreciation for the plant-based diet. Make sure you visit WellStartHealth.com and PlantYourself.com to hear more helpful info from Howard. Don't forget to follow the Plant Yourself Facebook page and let Howard know you enjoyed hearing him on the ATF podcast.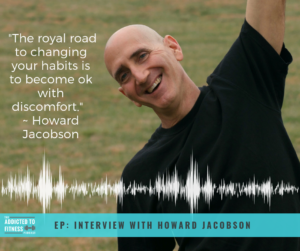 Don't forget to check out our Shop page for several ATF approved Amazon products and links to the podcast's great affiliates Stick Mobility and The Hemp & Coffee Exchange.
Last but not least, please give the podcast a rating and review in iTunes or the Apple Podcasts app. Presh!
Episode Links
Apple Podcasts: https://itunes.apple.com/…/interview-plant-ba…/id1121420986…