We take the Addicted to Fitness DeLorean all the way back to 2016 and the very first Girl Scout Cookie Challenge. The podcast was known as the ETT Wrap Show in those days and in this week's throwback episode my cohost at the time, Tyler Knox, gives a play-by-play of my quest to burn off the 210 calories contained in 3 girl scout cookies
This old school episode begins with me inhaling several of my favorite girl scout cookies, tagalongs, then preparing for a energetic HIIT workout. I decided the best method to burn the cookie calories would be battle ropes and bodyweight squats. Honestly my thought was that I would hit the battle ropes as long as possible then do squats as "active" rest.
Tyler gave expert real time analysis as I "battled" through the challenge. Unfortunately the calories didn't come off as quickly as I would have liked. After 5 minutes of constant exercise, I had only burned off 70 calories, which was disappointing since I predicted I could complete the challenge in under 10 minutes.
Make sure you listen to the entire episode to find out if my calorie counter picked up its pace and I achieved my forecasted time goal.
After the challenge, Tyler and I chat about my heart rate monitor, gluten free & vegan girl scout cookies, our preferred preworkout snacks (fruit, deli meat, etc), Tyler's most recent ETTampa training session and future podcast episodes. 
I love looking back on these throwback episodes, not only to see how we have progressed as podcast, but also to see how the topics we've discussed have evolved. I hope you all enjoy these time capsule episodes as much as I do. If you do, we'd really appreciate it if you gave us a rating and review in iTunes or on the Addicted to Fitness podcast Facebook page.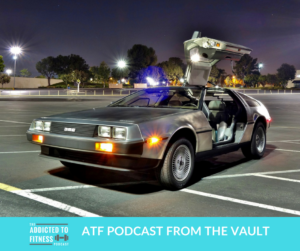 We've got a lot of great podcasts lined up for you all, including an interview with fish oil expert. You'll definitely want to subscribe to the podcast if you haven't done so already, and please rate, review and share Addicted to Fitness with anyone and everyone.
Please don't forget to visit our shop page to check out our ATF affiliates, Stick Mobility & Hemp Coffee Exchange, and our ATF Approved items on Amazon with our special ATF link here.
Episode Links:
Apple Podcasts: https://itunes.apple.com/us/podcast/from-the-vault-the-first-ever-girl-scout-cookie-challenge/id1121420986?i=1000418142038&mt=2
Spotify: https://open.spotify.com/show/2oKnPiujhyNzK19wHB2hF3?si=bY9qjnZoQIa7dc6w4WkqAg
Soundcloud: https://soundcloud.com/nick-burch-702220833/from-the-vault-the-first-ever