Shannon and I are back this week with our very own discussion about the newest fitness trend. Before we jump the this week's podcast, we want to remind you to check out all the products we've tried and tested from our favorite affiliates (Amazon, Stick Mobility & The Hemp & Coffee Exchange) on our Shop page. Your shopping through these links actually supports the ATF podcast! 
We also want to encourage you to give us a rating and review in iTunes and/or Apple podcasts app. Not only will you help the podcast reach more people but we'll feature you in our Listeners talk back section.
Listeners talk back
Kaitlyn Burch left us a rating & review about the "healthy" treats taste test (episode 119) we recently did. She said "I enjoyed this week's podcast! I'm glad you tasted those treats because I almost bought one at the store. You saved me some money!" Wonder which once she was going to buy?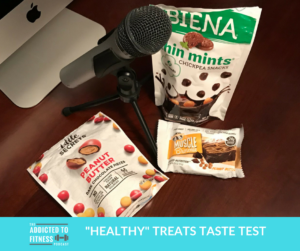 Training Recap
Shannon has been busy planning a private yoga session for a friend/coworker who just had a baby. Since Shannon is a registered yoga teacher, and she knows how difficult it is to exercise during the postpartum period, she gave her friend these sessions as a baby shower gift. Stay tuned to hear how Shannon did in one of her first teaching experiences since her yoga teaching program.
Shannon will also be meeting up with my massage therapist Monique from Restore Me Massage Therapy very soon. Shannon has A LOT of sore & tight muscles due to trying to chase down our now mobile daughter. She is typically wary of massage therapists, but I know from personal experience that Monique is very responsive to the client's wants and needs.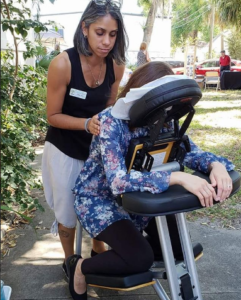 I recently meant with a fitness professional named Maurice Harden who is the owner & operator of Dynamic Fitness & training. Maurice specializes in muscle activation therapy. Being somewhat unfamiliar with muscle activation, I went to his website and discovered the principles/goals of this therapy:
Determine whether or not the brain is properly signaling to your muscles to contract when necessary
Identify which muscles are not receiving neural input by performing range of motion tests
Improve the stability of your joints by reactivating muscles and their ability to contract on demand
Provide a checks and balances system to make sure that any time mobility is increased, there is appropriate input and therefore contraction during this motion
After speaking with Maurice I realized there were lots of similarities in what we both try to accomplish with clients. I'm hoping to record a podcast with him real soon
HILIT discussion (high-intensity low-impact training)
Even though we both are very familiar with this type of training, Shannon and I weren't aware that HILIT was an emerging fitness acronym till we read an article from Well+Good. A quote from that article does a good job describing how HILIT came to be:
"HIIT was such a big thing, then foam rolling was big but people realized they weren't getting as much out of their workouts as they wanted to. So now we're seeing the trend moving toward high-intensity, low-impact with the focus being mobility and injury prevention,"
Basically, the emergence of HIIT training meant more people working out and unfortunately more injuries. HILIT claims to provide a solution with its combination of a high-intensity workout with low impact exercises. What qualifies as HILIT you ask? The co-founder of the LIT Method Justin Norris believes HILIT means you never have both feet off the ground (that's the low-impact part). Justin also emphasizes raising the heart rate (that's where high intensity comes in) without the use of jumping, running or burpees. 
Other forms of HILIT include bungee classes (yes you're attached to a bungee so you have low impact landing when performing exercise), barre fitness (think stationary dance/ballet training – Nick took a barre class & interviewed the instructor way back in episode 45) and of course Stick Mobility which I believe is the epitome of HILIT workouts.
Shannon and I also have interesting discussion on whether or not boxing is a HILIT workout. I believe it is, but Shannon does not. Love to know what you think. Weigh in on the debate by dropping us a line on social media or email us.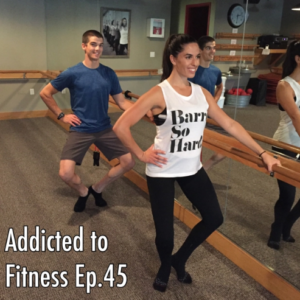 Our favorite FREE forms of fitness
We know the holiday season is quickly approaching, which means weather is starting to cool down and budgets are starting to tighten up. That's why Shannon and I wanted to share our favorite ways that you can take advantage of free fitness:
Free workout apps or YouTube vids – Shannon has been a longtime user of Zuzka Lignt

Take advantage of free class offers – some housing developments offer free classes as a benefit to residents

Locating greens spaces/running trails to bike or run – in addition to fitness benefits you get the benefits of forest bathing, which we discussed in episode 50

Yard work – may not be fun but mowing, trimming, raking are all examples of functional fitness

Research if your company provides fitness benefits – many companies provide free fitness studios passes/memberships to their employees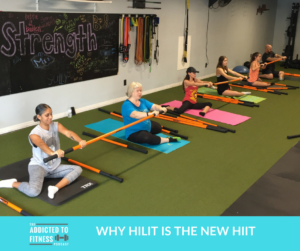 Thanks for checking out this week's episode. Don't forget to check out our Shop page and as always, please show us you liked this episode by sharing it with a friend. Thanks and stay healthy this week peeps!
Episode Links
Apple Podcasts: https://itunes.apple.com/us/podcast/hilit-workouts-are-the-new-hiit-workouts/id1121420986?i=1000418567108&mt=2
Spotify: https://open.spotify.com/episode/2dtRxO993TbygZwcgR5ngd?si=9UC_wFYDTYCeegL3Gd1Fsg
Soundcloud: https://soundcloud.com/nick-burch-702220833/hilit-workouts-are-the-new