As always, thanks for stopping by to get all the juicy details from our recent podcast episode. We know that many people will be thinking about this week's holiday, so we've got a fun episode for you all, including a special holiday edition of our Macros Game!
Just a friendly reminder, if you want a chance to mentioned on the show, just leave us a rating and review in iTunes or the Apple Podcasts app and we'll include you in our Listeners Talk Back section.
Training Recap
Nick has begun to shoot instructional Stick Mobility videos – check them out on @ettampa instagram – and he's on his way to building an exercise library for online Stick Mobility training. If you're interested in putting the moves to work for yourself, you can get your own set of mobility sticks through his affiliate link on this site.
Meanwhile, Shannon has decided to stop feeling sorry for herself and letting her cold get the best of her. She was just happy to have completed several early morning yoga sessions and progressed to incorporating a few inversions into her practice, which she hasn't done in a while.
EWG's Dirty Dozen & Clean 15
Every year, the Environmental Working Group (EWG), website – ewg.org, puts out lists of the "dirtiest" and "cleanest" produce in regards to pesticide contamination, and we share it in an effort to help you make better choices for you and your family when purchasing produce.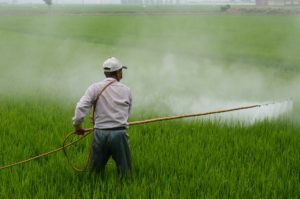 The negative effects of consuming produce with high amounts of pesticide residue are still being researched, but one thing we know for sure is how detrimental it can be to developing fetuses and young children – obviously a topic that is super top of mind for us right now.
One study, in particular, the CHAMACOS study, compiled over 19 years of data and has shown that fetuses and young children exposed to certain pesticides are more likely to develop conditions like asthma, developmental issues, and more likely to have lower IQ scores.
We go over both lists in their entirety in the episode, but if you want a quick sample from both, here are the TOP 3 from each:
Dirty:
1) Strawberries 2) Spinach 3) Nectarines
Clean:
1) Avocados 2) Sweet Corn 3) Pineapple
Go back and listen to episode #47 to hear how this year's list compares to the 2017 list. 
Red, White & Blue Macros Game
(Cue the music) For anyone unfamiliar with the Macros Game, it is a nutritional trivia game that requires the contestants to guess the macronutrient (fat, protein or carbohydrate) when given its amount in a serving of a certain food. Since the 4th of July is upon us, we decided to do a red, white and blue themed macros game for you!
Shannon and Nick choose foods that exuded those primary colors like rhubarb, blue corn and jicama. Listen we want you to listen to find out who came out with the victory and why it all came down to one crucial, all-American tiebreaker.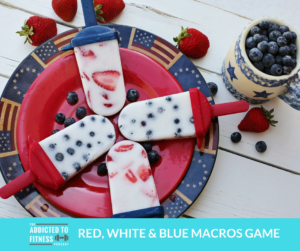 Wrap Up
If you're interested in the products we use, visit our shop page to check out our ATF affiliates, Stick Mobility & Hemp Coffee Exchange, and our ATF Approved items on Amazon with our special ATF link here.
Episode Links: